Skip Navigation
Website Accessibility
We are happy to work with you for your purchase of one of Viking's beautiful machines.
Please call the store at 603-458-1320 to discuss pricing, lay-aways, financing, or trade-ins
You deserve it!
DESIGNER
SERIES EMBROIDERY MACHINES


DESIGNER EPIC2

NOW AVAILABLE
We are proud to introduce to you the DESIGNER EPIC™ 2 sewing and embroidery machine.
Made for Sewers, by Sewers™,
this machine is made with you in mind, packed with new innovations to enhance your craft.

DESIGNER EPIC
This is a retired model.
Trade ins are available.
Whether you're sewing, embroidering or quilting, the DESIGNER EPIC™ top-of-the-line machine enable you to fulfill your greatest ideas. The first and only smart machine, thoughtfully created for you!
Large Working Area
Our largest embroidery area ever! Even more generous sewing area!. There are no limits to your larger than life projects, quilts
home dec projects or fashion. Embroider up to 360x260mm, non turnable*. Largest sewing area, more than 12" x 5 1/2" (310x140mm) work area.
mySewnet™ Cloud
mySewnet™ services cloud allows easy access to embroideries from multiple devices, including your computer, tablet or DESIGNER EPIC™ machine. They will always be synchronized and available whenever you need them via WiFi. The free App - mySewMonitor - provides you with real time updates on the status of your embroidery even when you're away from your DESIGNER EPIC™.
Fully Automatic Needle Threader
With one touch of a button your needle is threaded and ready to sew with the built-in fully automatic needle threader. Hassle-free threading every time!
DESIGNS INCLUDED
Features over 650 Embroidery Designs, incorporating 30 specialty techniques. 7 embroidery fonts, each in different sizes, from 10 to 80mm.
STITCHES
Over 1200 stitches, up to 54mm wide. 98 new stitches including Embellished stitches, Single Motif Stitches and Yarn Embellishment Stitches. 19 categories for easy selection. Exclusive patented stitch techniques. 6 sewing alphabets, with both upper and lower case letters, for easy programming.

EPIC 95Q

The EPIC™ | 980Q sewing machine is our most advanced and comprehensive computerized sewing machine ever. Made for Sewers, by Sewers™ to set your imagination on fire.


DESIGNER Sapphire 85

The DESIGNER Sapphire™ 85 is delightfully intuitive, uniquely capable, and especially designed for the imaginative sewer with big and bright ideas.
DESIGNER BRILLIANCE 75Q
Bring your dreams to life with the HUSQVANRA VIKING® BRILLIANCE™ 75Q sewing machine. Innovative features designed for the proud sewist and quilter.

DESIGNER DIAMOND ROYALE
Retired Model
Call store for special pricing on trade ins.
Our beautiful sewing and embroidery machine gives you the royal treatment in every stitch and delivers brilliant results.
Stitches
With more than 1200 stitches to choose from your creativity is endless, so many categories to choose from; Utility, Quilt, Decorative, Vintage and more. The brand new menu with Dimensional Stitches includes 26 stitches with appliqué and/or pop-ups
DESIGNER RUBY Royale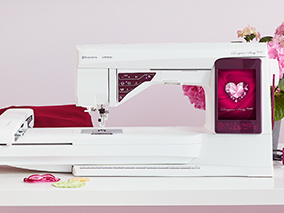 Retired Model
Call store for special pricing on trade ins.
Designed and engineered in Sweden, the DESIGNER RUBY deLuxe™ sewing and embroidery machine offers a wide array of features to fulfill your heart's desire.
Stitches
More than 1,000 stitches, including; Utility Stitches, 11 different Buttonhole styles, Quilt Stitches, Decorative Stitches, 6 Programmable Alphabets and 30 Personal Memories.
DESIGNER TOPAZ 50
Imagine. Create. Shine.
It's magical the way sewing plus embroidery turns something ordinary into something extraordinary. With the DESIGNER TOPAZ™ 50 sewing and embroidery machine you also get the advantage of built-in assistance and time-savers to help you bring your ideas to life. Push your creativity to a completely new level. Expect fabulous sewing and remarkable embroidery!
Sparkling Innovation...
The Interactive Color Touch Screen lets you intuitively navigate through various screens for embroidery, editing, and sewing.
The Design Positioning feature lets you join large embroideries with perfect placement every time.
Internet updates ensure that your DESIGNER TOPAZ™ 50 sewing and embroidery machine is always up-to-date.
Stitches
More than 250 stitches including; 7 mm stitches, Utility stitches, Quilt stitches, Decorative stitches and 5 Programmable Alphabets.
DESIGNER TOPAZ 40
The stunning HUSQVARNA VIKING® DESIGNER TOPAZ™ sewing and embroidery machines offer a wonderful airy design that unleashes your creativity, allowing you to create greater projects and embroideries than ever before. The ability to uncover a whole new world of embroidery designs will unleash your imagination. Fabulous space and creative freedom, in combination with built-in assistance features that are exclusive to the HUSQVARNA VIKING® brand, make these precious gems truly irresistible!
SAPPHIRE™ 930
Blending Colors. Weaving Memories.
The advanced SAPPHIRE™ 930 sewing machine, offers many features to assist and guide you throughout your sewing. A large sewing space allows you to manage really large projects, and threads are cut by the touch of a button, with the project still in the machine. Most settings are made by the machine itself based on what fabric or stitch you are using. All you have to do is focus on what you love! Sewing!
User-friendly innovation
Free-motion sewing can be done with any stitch.
A Start/Stop function makes it easy to sew with consistent speed without using the foot control.
Exceptional capability
Large area to the right of the needle ensures wonderful sewing ease.
Hundreds of 7mm stitches, specialty stitches and up to five font styles.
Clever convenience
The EXCLUSIVE SENSOR SYSTEM™ technology automatically and continuously senses any thickness of fabric for perfect fabric feed.
The Exclusive SEWING ADVISOR® feature instantly sets everything for you.
The automatic thread cutter cuts the threads with one touch.
For all stitches and techniques, the best thread tension is set automatically.
OPAL 650
A modern computerized sewing machine with loads of built-in assistance to help you go from good to great sewing!
OPAL 670
An extra-efficient computerized sewing machine with loads of built-in assistance that helps you achieve great sewing!
OPAL 690Q
EMERALD 116
60 stitch functions /16 stitches
Adjustable Stitch Length and Width
Up to 5 mm Stitch Width
Up to 4 mm Stitch Length
Snap-on Presser Feet
Electronic
EMERALD 118

70 stitch functions /18 stitches
Adjustable Stitch Length and Width
Up to 5 mm Stitch Width
Up to 4 mm Stitch Length
Snap-on Presser Feet
Electronic
JADE 35
Want to turn your creativity up a notch? Let embroidery work its magic! The DESIGNER JADE™ 35 sewing and embroidery machine is the ideal model for personalizing any project.
H CLASS E10
A sewing machine that is easy-to-use and comes with a variety of features and accessories to get you started.
H CLASS E20
Everyone can sew and turn their sewing ideas into reality with this easy-to-use sewing machine.
.